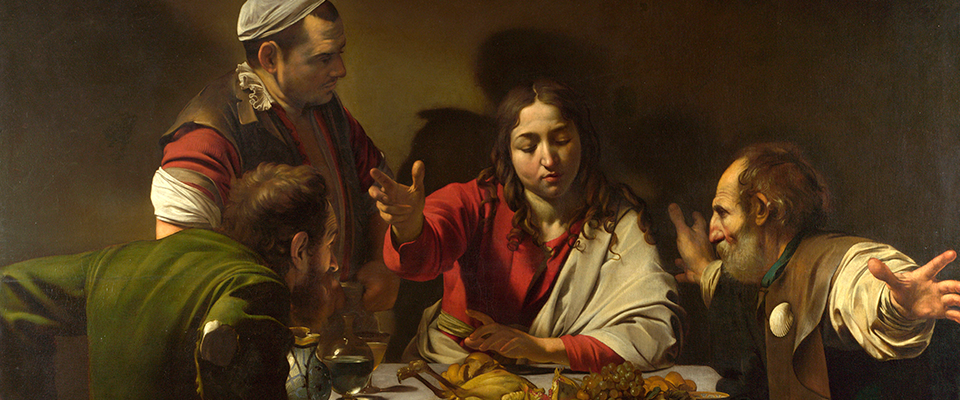 The Emmaus Road is a most wonderful resurrection account. Two people shattered by what has happened walk home, frightened, unsure of what has happened and uncertain about their future. They share together and as they do the risen Jesus walks with them, though as yet they do not recognize him. He listens attentively to them. Ponder that. He listens to them attentively. Then, and only then, he helps them see the events they have gone through by the lens of his cross and resurrection. Their hearts begin to warm and they invite the stranger into their home at Emmaus for the simple fare of bread and wine. As he takes, breaks and blesses the bread and wine to give to them, they recognize that this is Jesus alive.
Caravaggio's painting startlingly captures the moment of recognition with drama. To the right a disciple flings his arms wide and his left hand nearly comes out of the painting to pull us in. The basket of fruit looks like it will topple into our laps and we feel like pushing it back in. The front of the painting is wide open so that we too are at the table.
We too walk an uncertain path these days and new ways of sharing have been a great blessing. The risen Lord walks with us and enters into our felt experiences, our fears and worries. In our simple acts of kindness and sharing we see him in our midst. As he holds the brokenness of our world our hearts numbed by so much suffering begin to warm again.
May we know this Easter on the journey of our lives, that we have each other, and that the risen Jesus walks with us. May we see the depth of all he endured on the cross, and rejoice in his resurrection, and have our eyes opened to his presence. Pope John Paul II said…
Stay with us, Bread of eternal life, broken and distributed to those at table:
give also to us the strength to show generous solidarity towards the multitudes who are even today suffering and dying from poverty and hunger, decimated by fatal epidemics or devastated by immense natural disasters. By the power of your Resurrection, may they too become sharers in new life. We, the men and women of the third millennium, we too need you, Risen Lord!
…Sustain us, we pray, on our journey. In you do we believe, in you do we hope,
for you alone have the words of eternal life (cf. Jn 6:68). Mane nobiscum, Domine! (Stay with us Lord)
Alleluia!
Dean Paul
Download the MORNING PRAYER EASTER III 2020 – HERE
– – – – – – – – – – – – –
Back to Archive